Are you thinking about doing some home renovation?
For most people, their home is an extension of themselves. It's how we show who we are and what matters to us to the world. But as fall settles in and winter approaches, our homes change too – sometimes dramatically!
But it's no longer just about the changes in the season. It's also about how our daily operations change.
The world has changed. The commutes have ended, and many things are happening right in our homes.
Many of us are in need of home offices. Education happens at home as well. Work and school have gone remote.
It's important that we accept and adapt to the conditions the world have forced us to embrace. That way, we can grow too. But these changes sometimes may require some altering of our home. That's where home renovation comes in.
A home renovation allows us to make the adjustments and changes we need to make for our current situations.
There are many different types of home renovations, but some of the most popular ones right now deal with making your space more functional. Like adding a mudroom or turning an attic into living quarters in order to open up more floor space downstairs.
Are you thinking about doing some home renovation? Don't miss out on some of the top home renovation trends in the year 2023.
The Most Popular Home Renovation Trends in 2023
#1 Adding a Recreational and Entertainment Room
At the moment, safety is of utmost importance. That means, most people cannot go out to have some fun in the bar or socialize in crowded areas. That's why many homeowners are adding a recreational and entertainment room. Before creating a recreational or entertainment room, you first must identify what activity recharges you the most. What activity makes you feel relaxed or entertained? Some ideas for this is a gaming room or a room filled with a gaming console or gamer PC. It can also be a home cinema where you can watch your favourite shows and movies with dim lights and comfy seats. This room is the most fun to make!
#2 Adding a room for staying active
Adding a room for staying active is another popular home renovation trend. There are many reasons why people want to add this kind of room in 2023. First, most dance classes and Zumba classes happen online. But people are often challenged with the lack of spaces in their homes. The same problems occur with people who love to stay healthy by exercising, and people who love to take dance classes like hip-hop, ballet and contemporary.
A home gymnasium is a popular choice for homeowners because it can let you do your favourite activities in the comfort and safety of your home. It also provides enough space to move around. In this way, you won't hit furniture, get injured or break home accessories.
#3 Creating a dedicated work-from-home area.
As mentioned, more people are working at home in the year 2023. But the home offers many distractions like noisy kids, dogs barking, cats walking in front of your screen, and endless distractions like TV shows and social media.
With all these distractions, you'll get nothing done. That's why one of the best internal home renovations you can make is dedicating a space in your home for focused work. This area can be away from the rest of the household and its distractions. Having your own space not only helps with focus and productivity but also helps you effectively separate your working hours from rest hours. It means winding down after hours at work is easier.
#4 Getting some work-specific furniture.
Working from home means you'll be sitting all day long in front of your computer, which can lead to backaches and eye strains. That's why part of the home renovation trend in the year 2023 is getting some ergonomic furniture.
Ergonomic furniture is designed to fit the body. Some of them are specially designed for computer use and they're adjusted in height. Investing in ergonomic chairs and desks will save you from back pain and other health problems that arise from bad posture.
#5 Switching to environmentally friendly solutions and home designs
Making your home eco-friendly has been a new trend in the year 2023. Not only will it help lessen the damage to the earth, but it can also be a cost-friendly change in the household.
Some of these eco-friendly home renovations include installing light bulbs that are energy efficient. It can also include installing solar panels. Some homeowners are even using recycled but fashionable home furniture. While some can be environmentally friendly by installing low-flow showerheads. This lets them save more water.
#6 Having some bathroom upgrades
Having spent most of our times at home this 2023, some of us are dying for some alone quiet self-love time. With the right features, your bathroom can be your quiet self-love sanctuary.
That's why more people are renovating their bathrooms, and transforming them into a new space for rest and relaxation. They do this by adding tubs, adding steam showers, adding a cup holder for a glass of wine, or maybe changing the bathroom's light bulb colour for better ambience.
#7 Outdoor Home Renovations
With more people staying indoors, some of us are craving some time spent with nature. In 2023, there are more people who want to enjoy the outdoors in their homes.
This is why many homeowners are renovating their outdoor space by adding a deck, patio or outdoor kitchen.
The trend is to design the space for cooking and entertaining outside so that people can relax in their garden and enjoy the sunshine.
Some homeowners are also looking at landscaping their outdoor space to make it more appealing for relaxation, like adding a fire pit or garden area.
Do you need a home renovation?
If so, then you have come to the right place. We are going to talk about step by step home renovation checklist. You will learn all of the steps that you should take before and during your renovations. But if you're confused about whether you need a home renovation, we'll cover that too!
Some homeowners can still feel confused whether it's time for a renovation or not. Here's a simple guide to deciding. First, walk around and look at the physical condition of your home. Then, I'd like you to answer the questions below.
Question 1: Have you moved to a new city?
Moving to a new city can make you feel a bit homesick. Renovating would help make you feel more comfortable and "at home".
Question 2: Do you have an outdated kitchen that doesn't fit with the rest of your house?
If you have an outdated kitchen, renovating would make your space feel up-to-date and modern. If you have any old furniture in your kitchen that's no longer functional or aesthetically pleasing, it's also best to replace them.
Question 3: Do you have enough money for home renovations?
If you're still feeling confused about whether or not it's time to renovate, then do a budget assessment first. If not, then it's best to save up for some quality home renovation 3- 9 months from now.
Question 4: Is the design of your home impeding ease and safety?
If the design of your home is impeding safety, then this might be a good time to renovate. For example, there are many stairs in the house. This would make it difficult for people to get into and out of your home, especially if they are carrying groceries or other things.
Question 5:Does clutter makes it difficult to move through rooms and hallways?
It's the same with clutter. Some home designs can encourage more clutter, making it difficult to move. If there's unnecessary clutter in your home, then it's time to redesign.
Question 6:  Do you find yourself hating how some rooms look, but can't seem to figure out what needs fixing?
Home renovation specialists in Sydney can help you decide on what needs changing in your home. They can spot eye-sores and functionality-mishaps, giving your home a makeover.
Question # 7: Is it hard to move around your home?
Examine the size of your home. If you live in a small area that has too many rooms or if it's hard to move around in the house without bumping into furniture (without renovating) then this is an indicator for internal home renovations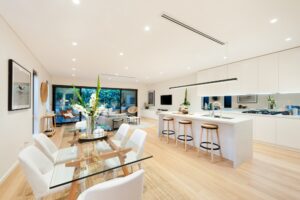 Home Renovation Checklist
There are many ways to decide whether you need a home renovation. For example, you have safety issues, aesthetic issues and functionality issues with your home design. But, if you answered yes to any of the questions above, then you probably need internal home renovations.
Here we have provided a simple checklist to help you decide what needs renovating:
1.Examine the physical condition of your home.
This includes things like cracks, leaks and water damage. See if the paint on the wall is already pealing. Find home damages that can compromise your family's safety.
2.Consider what you want to change or improve in your home.
After you're done observing your home, make a list of all the things that need renovation.  The list is not a complete summary of all things wrong with your home. It's just a list of changes or improvements you would like to make. That way, your home can better suit your family's needs.
3.Estimate how much it will cost to make those changes and improvement.
A lot of homeowners are hesitant about renovating their homes because they fear going into debt. But, there's no need to worry if you're smart and careful when doing your renovations.
There are many ways to save money without cutting on quality or settling for something less than what you deserve in an upgrade. You can consult renovation builders Sydney so you get more guidance in budgeting.
But for starters, if you find you don't have enough money for all the changes you'd want to make, then try to organize them in terms of urgency and importance. Then, learn to prioritize.
4.Find reliable home renovation specialists in Sydney.
To find the best home renovation specialist, first, you must, look for the ones with good reviews. See if they've done similar projects in the past and whether they specialize in the type of renovation you're aiming for.
These specialists can also help you s help you with budgeting- one of the most important steps in any renovation project.
5.Once you've found your builders, communicate your vision.
The next step is to communicate your vision. As you're now more knowledgeable about various home renovation costs and how they correlate with the quality of work, discuss what's important for you in detail with them. They'll be able to guide you through the process and make sure that everything goes well- from budgeting, planning to renovate down to the finishing touches.
6.Play an active role during the renovation.
It's time to get your hands dirty. It may not be as glamorous as you think; after all, it can take quite a lot of patience and persistence for home renovations to happen smoothly. But don't worry- if the job is done right from the beginning then everything should go just fine. To take an active role, all you need to do is not be afraid to ask questions. Assess if the work is aligned with what you have envisioned. Help make effective adjustments if something comes up.
Need help with a home renovation?
If yes, discover how we can help with your home renovation and get ready to make some home renovations for the year 2023. Home renovation specialists in Sydney is here to help. Send us a message today.