Imagine the heartwarming embrace of walking into a home perfectly tailored to your every comfort, reflecting the essence of your personality in every corner. The sheer satisfaction of knowing that you've created a haven that mirrors your aspirations and individuality is beyond compare. This is the power of a dream home – a space where personalization intertwines with accomplishment, and where every nook radiates a sense of belonging. Custom home builders Sydney understand the emotions that drive the dream, and they hold the expertise to transform your vision into reality. Your dream home isn't a distant fantasy; it's a tangible reality waiting to be shaped by the skilled hands of those who recognize the significance of the place you'll call your own. With the collaboration of custom new home builders Sydney, your journey to an idyllic dwelling begins – a journey filled with advantages that bridge imagination and achievement.
Crafting Your Dream Home: The Power of Custom New Home Builders
Custom home builders Sydney possess the remarkable ability to transform your desires into tangible structures that encapsulate your ideal living space. This journey toward your dream home is an exciting blend of innovation and collaboration. It's about bringing together your imagination and the craftsmanship of experts who can turn your ideas into architectural marvels. The essence of custom home building goes beyond cookie-cutter designs; it delves into the heart of what makes a house a home – the intricate interplay of personalization, functionality, and aesthetics.
Advantages of Enlisting Custom New Home Builders
These artisans of architecture hold the key to a world of advantages, where the realization of your dream home isn't just a distant hope, but a practical and achievable goal. Here are some compelling reasons to embark on this journey with custom new home builders Sydney:
Get the home of your dreams finally
It is evident that professional home builders are talented craftsmen. Working with them can make sure that you are going to live in the house you have always dreamt of. Whether you like to have a large game room, a home theatre, or a swimming pool in the backyard, all you should do is share your ideas and needs with the home builders, and they will take care of the rest.
Get your home in the neighbourhood of your choice
One downside most homeowners face about buying a new home is that it might be located in a neighbourhood that you don't prefer. Custom home builders Sydney can solve the problems. They will not just build your new home but will also construct it in the ideal neighbourhood you wanted to live in. If you have a neighbourhood preference, you should work with your home builder and convey to them your ideas. They will work for you and find the best location for your new home.
You are hiring an expert
Custom home builders are certified experts in their field. Instead of hiring an architect or a contractor to design and construct your house, you can make things simple by hiring home builders. This way, you will not only be saving the cost by hiring reliable people to build your home, but you can also guarantee that your dream home will be built with perfection and passion. The custom home builders will use their expertise and knowledge in handling the different aspects of your house project.
Save money and time
By hiring expert home builders, you can save money. He will recommend you a high quality yet cost-effective building materials and make sure you get some great pricing from their subcontractors. On the other hand, you can also save a lot of your time when you rely on custom home builders Sydney to build your house.
They will handle the entire construction process from start to end, ensuring to stick to the promised timeline so that the construction work is completed on or before the due date.
Making changes to your design effortlessly
There will be times when you change your minds on the proposed model. With a custom home builder on your side, you can make the changes easily. With their expert suggestions and advice, they will help you make the right decisions.
Don't let your dream house plan be just an idea. Make it come true by working with a custom new home builders Sydney.
Navigating the Path to Your Dream Home: Strategic Planning with Custom Home Builders Sydney
Embarking on the journey to construct your dream home is a thrilling endeavor that demands careful consideration and comprehensive planning. Achieving your aspirations requires not only envisioning what you desire in your ideal living space, but also recognizing what elements might not align with your lifestyle. The process of crafting your dream home is undoubtedly exciting, yet it's essential to acknowledge that, like any significant undertaking, challenges and pitfalls may arise along the way.
Strategic Planning for a Seamless Construction Process
Ensuring a successful and timely build necessitates a strategic approach. Delving into the process of building your dream custom home with the expertise of reputable custom home builders Sydney can lead to a journey marked by efficiency and accomplishment.
Weeding Out the Unnecessary
While embracing your dream home's design and features, it's equally crucial to discern elements that don't resonate with your vision. A conscious consideration of both your needs and preferences is fundamental to shaping a home that perfectly complements your lifestyle.
Evaluating Potential Blunders
Acknowledging the potential for common building blunders underscores the importance of a methodical construction process. Meticulous planning minimizes the risk of costly errors, prevents unnecessary tensions, and accelerates the pace at which your dream home takes shape.
The Role of Adequate Research
Research forms the bedrock of informed decision-making. From exploring architectural choices to envisioning future lifestyles, dedicating time to research empowers you to make choices that align seamlessly with your aspirations.
Collaborating with Professionals
Consulting professionals in the field is an invaluable step. Architects, engineers, and builders bring specialized knowledge to the table, helping you avoid pitfalls and unnecessary expenditures while enhancing the overall quality of your dream home.
Creating a Healthful and Comfortable Haven
Architectural choices have the potential to shape not just the aesthetics but also the comfort and health of your living space. Leverage the expertise of professionals to ensure that every aspect of your home contributes to your well-being.
Selecting the Right Custom Home Builders Sydney
Choosing the perfect partner to transform your dream into reality among the multitude of custom home builders Sydney can be a defining decision. Seek builders who prioritize strategic planning, emphasize quality, and understand the nuances of your vision.
Your dream home is within reach, waiting to be molded into reality. By navigating the building process strategically, supported by the expertise of seasoned professionals, you can sidestep potential pitfalls and transform your vision into an idyllic haven that resonates with your lifestyle and aspirations.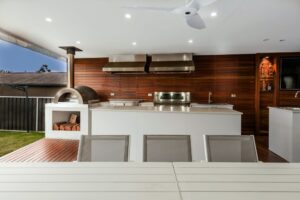 To take you through the process, here are 4 mistakes good custom home builders Sydney never make that you should look out for.
1. Disregarding Safety Caution
When accidents emerge on construction sites, the implications can be far-reaching and include more than just property damage. It can affect both employees and members of the general public. Unfortunately, accidents may occur, but the highly organised and equipped custom home builders Sydney and employees are, the greater the likelihood of preventing such fatalities. Modern technologies have made it substantially easier to ensure that all-important safety precautions are observed and implemented.
We're seeing more and more wearable, connected safety equipment that can detect things like heart rate, body temperature, and stress levels, among other things. Meanwhile, teams can ensure that safety coordination is accomplished, that all necessary actions are followed, and that everything is documented in a central location by employing cloud-based project and field-management software. Even though construction is never without risk, working smarter results in working safer.
2. Inefficient Management of Conflicts
Too often, custom home builders Sydney fail to identify the emotional state of property owners during the construction process, and they are unwilling to enter into win-win agreements with them. The majority of builder/client disputes are the result of discrepancies between what was promised and what was delivered. The contract must be written in a clear and straightforward manner, and it must include a complete set of plans and specifications, as well as thorough record of all communications.
3. Cost Estimation Errors and Faulty Planning
A bid that is inflated or incomplete may result in contractors being unable to secure the contracts you require. Underestimating occupations increases the likelihood of losing money on those positions you formerly wanted. Having the ability to more accurately predict and forecast the costs of prospective projects can have a significant impact on the accuracy of bids, resulting in the potential to win more work.
A deeper grasp of project data and the analytic power to project future projects and bid accordingly are two benefits of using the most up-to-date technology and software such as an intuitive construction business intelligence solution. Modern software can make it simple to set up projects using bid information once work has been awarded, and it can also assist in improving productivity and controlling job costs during the building phase in order to get the best possible results.
4. Setting Unfeasible Goals
Consequently, custom home builders Sydney must make it obvious to their clients that they are in-charge of the project in order to rectify the situation. The consumer must make their decisions on time, be able to afford what they want, and refrain from attempting to monitor subcontractors or suppliers on their behalf. Building a client relationship requires communicating to the client that adjustments to the task will take time and money, that delays will occur during the building process, and that workers will not necessarily be on the site for eight hours per day on a consistent basis. Inform the customer that there may be hiccups along the way, but that they will be content in their new home after they have settled in.
Contemplating among your options of best custom home builders Sydney? Quantum Built delights in every stage of the home building journey! One of custom home builders Sydney dedicated to quality, our in-house team can take your vision from first intriguing sketch right through to exquisitely finished product – without missing a beat. Check us out today!