In recent days, people who are entering the property market in Australia hire custom home builders Sydney to build their own home than buying one. Building a property from scratch has many benefits over buying. Here we've listed a few reasons why building a custom home by custom home builders Sydney is better than buying a ready-built home.
Custom Home Builders Sydney: 4 Reasons to Build a Custom Home
Value for Money
When you are building a custom home you can save on potential costs that may be involved in the long-term tasks including maintenance and more. Buying a two-bed room apartment may seem cheaper but when you build you home, you can add as much as rooms or anything you want, and get more value on your money. Also, there will not be any maintenance works that are left as everything will be new with no work to be done. It is also important to work with custom home builders Sydney that value and give you your money's worth.
Incorporate Your Own Style
You can hire custom home builders Sydney to build your home to suit your style. Yes, in this area, you are free to build every single corner of the house to your exact preferences. You can have an open plan living and kitchen area, indoor and outdoor entertainment areas, and more. You can also recreational facilities such as a spa or pool area as you want.
The primary reason why building your own home is beneficial is that no space in your home is left unused. With a great shift in the design and size of the home, you have the opportunity to create your own floor plan rather than an already existing property that may be outdated.
Energy Saving
Nowadays, new home are built with cost-saving factors in mind and there are a myriad of options that make it easier to save on costs as well as, save the environment by cutting excessive energy consumption. Did you know normal home windows can let in or leak away up to 40 per cent of your home heating or cooling energy, but it can be reduced by up to 80 per cent by choosing energy-efficient windows?
Moreover, you can also choose paint colours that can have a great effect on lighting and heating levels. Many research reports show that using lighter coloured interior paints to improve daylight levels inside your home will essentially minimise the need for using lights throughout the day.
The Bottom Line
Hiring custom home builders Sydney and building a new home from scratch can be more profitable than buying a pre-built house. If you are using your own home as an investment property, you can claim depreciation over the first few years, and enjoy tax benefits.
Building a New Home in Sydney? Tick Off These Important Considerations
It goes without saying, that at least once in this lifetime, we've sketched a dream home at the back of our mind where we may meet the reality of our aspirations, while also establishing a comfortable way of life for ourselves.
Although it's exciting and, of course, simple to describe our ideal home, making it a reality may be a daunting undertaking if you're a first-time homebuyer who doesn't know where to begin. Ignorance may be bliss in some situations, but not when it comes to making long-term financial decisions. It should go without saying that a considerable amount of time and dedication is put into building a new home in Sydney.
You will embark on the exciting adventure that begins with the selection of the ideal piece of land and continues through the realization of your imagination until you are able to slide your key into the lock and begin living in a home that represents your personal preferences in terms of taste, aesthetic, and prerequisites. For people who are building a new home in Sydney for the first time or who have had a previous home that did not come out quite as they had anticipated, weighing all of their options can be overwhelming, particularly for first-time home builders.
Building a new home in Sydney from the ground up takes time and does not always result from the simplest of inspirations. Not only must you choose between asphalt slate and wood spread for your roof, but you must also choose from among a wide range of paint colors before you can call the job finished.
The reality is that there is a plethora of aspects to consider or specifics to investigate before making a final decision. Everything, from the design plan to the construction process and on to the final product, should be thoroughly thought out. Thus, to save you the grievances of faulty decision processes, we have come up with a list of important considerations you must first tick-off before building a new home in Sydney;
1. Ready-Made or a Custom-Made Design
When you decide on building a new home in Sydney, one of the decisions you will have to make is whether to go with a ready-made design or something unique and custom designed from scratch. It is possible to gain an understanding of the construction process and the final appearance of the home by looking at designs on websites such as getty pictures.
You should get professional advice from individuals who have recently acquired a new home, including both custom-designed and pre-built homes, before making your final decision. Checking discussion boards and forums can also provide you with valuable advice, recommendations, and information that can assist you in deciding what style of home to purchase.
In order to create unique designs, parcels of land with distinctive shapes or sizes will necessitate a great deal of care. In order to build your dream home, you will need to collaborate with an architect that knows your requirements and pays close attention to every creative element. While an original design may be more expensive than a prebuilt design, your home will be unique and will be a place where you can truly relax and entertain, and most importantly – a place you can call home.
2. Cost Anticipation
When you discover that framing will cost you significantly more than you anticipated, your ideal house may be broken from the start. So, before moving forward on building a new home in Sydney, it's critical to sit down and thoroughly comprehend the cost breakdown. The cost is often determined by the location, scale, layout, procurement route and project administration, as well as the type and quality of the building.
There will be cases, however, where the cost surpasses the estimations made. Moreover, in addition to the above listed issues, products or supplies that were not originally planned for may be required owing to unforeseen circumstances or conditions.
3. Government Clearances
A critical step in the process of building a new home in Sydney is obtaining all necessary approvals from the federal and state governments, as well as other local authorities. Before beginning any construction project, you must submit a number of construction applications to ensure that you comply with all applicable building codes and laws in the area where you intend to construct your home. If you do not comply with the regulations or do not submit a successful application, the local authorities may order you to change or remove what you have constructed.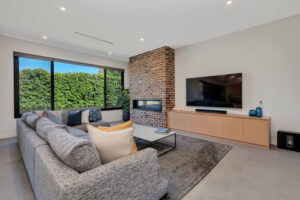 4. Obtaining Appropriate Materials
Choosing the correct materials for a design project is a very important consideration. A good home should be able to withstand the test of time, be durable, and be well-constructed. Consider the fact that there are numerous options available in the field of construction technology. Ceramics, concrete, wood (adding wooden beams to provide architectural interest to the home), and the most expensive materials are all options. A large number of prefabricated pieces may also be used, which will save you money and time during the construction process.
The use of the most energy-efficient building materials can also help to attain maximum energy efficiency. In the long term, an ecologically friendly home will save you a great deal of time and money because it will require less energy to heat and cool, resulting in lower energy bills. You can talk to your custom home builders Sydney for all the details that you want included in your very own homes.
There are several types of insulating materials that can be employed, such as mineral wool, foamed polystyrene, and polyurethane foam. It is critical to consider the amount of material used as well as the selection of the most effective materials in a specific category.
The acoustics of your home will be influenced by the materials that were utilized in its construction. Staying in a noisy environment can be detrimental to your health, which is why it is necessary to take extra precautions such as soundproofing your home. In your home, you don't want to be disturbed by echoes from other rooms, and that is why it is important to work with custom home builders Sydney that know what they do.
5. Choose a Reputable Home Builder Western Sydney
Following the completion of the architect's polishing of the design and blueprints, it is important to select the most qualified custom home builders Sydney to assist you throughout the construction process.
However, while there are numerous custom home builders Sydney to choose from, working with a reputable and experienced contractor may make a significant difference, both in terms of keeping your project on budget and ensuring that your dream home is built to the highest professional standards. Furthermore, a skilled builder will supervise the construction process, ensuring that the ceiling does not leak and that the walls do not fall as a result of the work.
And here in Quantum Built, we do not just merely comply to your checklist, but we help you tick off your needs. From start to finish, Quantum Built covers all bases. We're the real deal – an established building company, with an outstanding reputation and more than 20 years of local industry experience. Book a free consultation with us today!