Are you planning to renovate your home? From relocating plumbing and electrical work to overcapitalizing, there are many renovation mistakes that you'll make when you are planning for home renovations Sydney. Here we've compiled a list of renovation mistakes and how to avoid them.
5 Renovation Mistakes
Overestimating the Renovation Budget
One of the biggest mistakes of home renovations Sydney is overestimation of the renovation budget. While beginning your journey on a renovation project, there are many things to consider including researching labour costs, comparing quotes, and finding out the right materials for your renovation project. Gather all the essential information beforehand to make the right decision for your renovation project. This will keep you away from the trap of underestimating costs that leads to overcapitalisation.
Renovation Timeline
Best home renovations Sydney emphasize on renovation timeline and it's an important aspect as budgeting. Once you've come up with the plan for your renovation work, you should how long each task will take and decide a project completion date. Creating a proper timeline helps you to schedule the work carefully and help organising the home renovation project.
Getting Involved in DIY
Painting and landscaping are few of the tasks homeowners can do themselves but there are certain things that you shouldn't do on your own. You must hire professionals for more complex works such as plumbing or carpentry and attempting DIY for these projects will lead to costly repairs and dangerous results. So, get advice from home renovation specialists in Sydney for all the simple and complex works. It's better to get advice from professionals before starting work than having to hire them later to repair the mess you have created.
Permit, Approval and License
Some renovations involve zero paperwork while others require the hassle of getting approvals and permits. It can take longer to process, around 4 weeks for getting approval alone. In some cases, these requirements come as a surprise, if you aren't planning it properly.
So, acquire permits and approvals before staring your renovation projects to avoid penalties and ensure that your building meets the regulations published by your state. You can also employ class 2 builders can take care of these for you.
Upgrading Wrong Areas
Spending a bulk of amount on a wrong room is not a wise decision. It drains all your money and energy, and won't add any value to your property. So, always remember to spend the majority of your renovation budget on master bedroom, kitchen, and bathroom. This earns you more profit when you decide to put your home or sale or rent in the market. Get advice from your home renovation specialists Sydney to save more.
Home Renovations Sydney: Your Professional Help
When it comes to renovating a home, hiring a professional is highly recommended. Professional renovators have the experience, expertise, and tools necessary to complete a renovation project efficiently and effectively. Here are some ways that professionals can help homeowners with their renovation projects.
Planning and design
Professional renovators can help homeowners plan and design their renovation project, taking into account their needs, budget, and timeline. They can provide advice on design ideas, material selection, and more.
Project management
Renovation projects can be complex and involve multiple contractors and vendors. Professional renovators can manage the entire project, ensuring that it stays on track and within budget.
Quality workmanship
Professional renovators have the skills and experience necessary to complete high-quality work. They can ensure that the renovation is done correctly and meets all building codes and regulations.
Safety and liability
Renovation projects can be dangerous, particularly when it comes to electrical and plumbing work. Professional renovators are trained to work safely and can ensure that all work is done to code, reducing the risk of injury or damage to the property.
Warranty and guarantee
Professional renovators typically offer warranties and guarantees on their work, giving homeowners peace of mind and protection in case something goes wrong.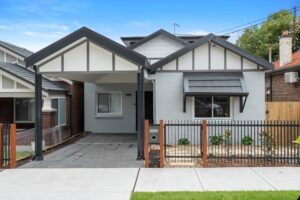 Home renovations can be costly and emotionally draining, but when done the right way, it can add more value to your property. Quantum Built's home renovations Sydney NSW team consists of the best in the industry. Please contact us to discuss your home renovation needs.