Many homeowners are looking for ways to improve the look, feel and functionality of their home. That's because the home is the one place where we tend to spend a lot of our time. One way they can do so is by carrying out internal home renovations without breaking the budget, and in this article, you'll read some tips that can help you achieve that goal.
Let's start:
Internal Home Renovations: How Can I Stay Within Budget?
If you're planning on performing a home renovation project, you might be confused about how to start your project in a budget-friendly way. Below, you'll read some tips on how to stay within a budget right at the start and possibly to the end of the home renovation. Read on, and start saving money on your internal home renovations!
Plan your renovation budget wisely.
It's wiser to do your internal home renovations by room. In this situation, you can find the project easier to plan, more affordable to execute and less overwhelming. All you need to do is prioritize which internal home renovations are the most important ones. Build a budget around the cost, and voila! You have a solid action plan for your internal home renovations.
Have clarity on how much you're willing to spend.
It's difficult to decide how much we should spend on internal renovations. We can get too excited and decide to overspend. Sometimes, we can get stuck in paralysis-analysis trying to figure out what's the best budget for internal home renovations. The tip here is to look at the value of your home as a whole. A great rule of thumb is not spending more than 12-15% of the total cost of your home on a single room.
Prepare some cost estimates.
The most important step to staying within budget is communicating with your contractors well. And the first step to do that is to create a detailed plan of all you want to accomplish and their expected costs. Include materials and finishes such as paints, floorings, glass and so on. Include costs of installations, expected shipping fees, taxes and so on. Not only will this detailed plan give your contractor a clearer picture of what you have in mind. They'll also be able to provide you with a more accurate quote.
Compare quotes and find the best deal for your budget.
Once you have received all of the estimates, compare prices and quality before making your final decision. Remember that price is not everything! You should also take into account how well they communicate, their experience level as well as whether or not they've worked on similar projects before.
Consult home renovation specialists in Sydney.
Once you've got clarity on what type of project you'll prioritize or how much money you're willing to spend, it's a good idea to consult a home renovation specialist. That's because they'll be able to recommend what's the best options for your home depending on budget, type of project and so on. They can also suggest ways to lower the cost your internal home renovations while still fulfilling a version of your ideal home transformation.
Work with the best home builders in Sydney.
Working with the best home builders can help you stay within budget. That's because they'll be able to give you estimates on what items will cost and how much they should cost.
Internal Home Renovations: Cost-Friendly Designs and Changes
Bedroom
One of the most ignored detail in your bedroom is the headboard. Add a headboard and add new spice to the design of the room. There are many designs to choose from. There's big, small, finely carved, detailed, wood or metal. Choose the one that compliments the design of your room.
Bathroom
Make your bathroom convenient. You can do this by adding a new toilet seat and sink that is accessible for everyone in the family, as well as installing handrails around the bathtub to help seniors navigate around the bathroom better.
Living Room
The lighting is the key to creating the atmosphere in a room. If you don't have good lighting, it will make your home seem dark and dreary. If it's dark, you can improve the lighting in the room by adjusting the curtains. Choose light-coloured ones that will let in more light. If you want to make the room feel bigger, hang mirrors on two opposing walls and install a floor lamp.
Office
One of your goals in the office is to be productive. So, it's only understandable that your office design should be optimized for productivity. A budget-friendly way to do it is to rearrange your furniture in a way that optimizes your performance. A home renovation specialist can help you with this. You can also buy or exchange your furniture for ergonomic ones.
Lastly, work can be demanding, and studies show that putting plants around the office can help promote mental well-being. They're also a great way to freshen up the mood while you work.
In the Dining Room
The dining room's design is one of the important factors that make eating enjoyable. It can either make eating a pleasure or something that's just unpleasant to do. So, how can you make the dining room the best place to eat? You can use colour psychology. Red, yellow and orange are perceived to be colours that help with appetite. No wonder they're used by big food brands! You can use these colours on your walls, furniture and utensils.
Get a budget-friendly renovation now!
It's a great goal to transform your home into something bold and new. However, it's important to plan the project wisely and stay within the budget. Failing to do so might turn your renovation project into a catastrophe. One way to do this is consulting home renovation specialists in Sydney. You can do this by sending us a message today.
Although it does not seem to be necessary, but renovations are sometimes needed to keep up with your lifestyle. There are a lot of modern home renovation projects that can be done to help make your life a bit easier. These modern home renovation projects may be small, a bit handy or grand, it depends on how big you want it and how necessary it is. If you are looking for some inspirations, you came to the right place. Here are 20 modern home renovation ideas to choose from!
20 MODERN HOME RENOVATION IDEAS YOU CAN DO
1 OUT OF 20: IMPROVE STORAGE SPACES
Adding more storage space throughout your home is a straightforward home improvement suggestion. Adding floating shelves and bookshelves to your living area could be as simple as that. You can also go bigger with projects like closet expansions and under-stair storage!
2 OUT OF 20: LET NATURAL IN
Consider increasing the amount of natural light in your home if you're looking for modern home renovation ideas! Install enormous floor-to-ceiling windows instead of outdated windows. Incorporate skylights in your bathrooms. Alternatively, you could simply paint your interiors white to assist light reflect better throughout your home!
3 OUT OF 20: NEW COUNTERTOPS
A five-figure kitchen renovation can include cabinets, countertops, and fixtures. If your cabinets, on the other hand, are in good condition, you can replace one of your home's most difficult working surfaces with new countertops. You may be able to afford a more expensive material if the square footage you have to cover is smaller, which lowers your cost. Ask your local stone and tile company if they have any leftovers or secondhand stone who has connections with home builders inner west Sydney to install them perfectly.
4 OUT OF 20: INSTALL DIMMERS
You might be having trouble achieving the correct light balance in your home if there isn't much overhead illumination. This is especially true in older homes with fewer floor and side lamp outlets. Installing a dimmer switch can be a quick and simple answer in these situations: keep it bright when working on a project, but decrease it for a more relaxing atmosphere.
5 OUT OF 20: ADD A MEDICINE CABINET
A new medicine cabinet is a simple, cost-effective way to update your bathroom while also adding flair and storage. To gain storage and a new style, replace a conventional wall-mount mirror. Add a cork board or chalkboard to the inside of the door for daily affirmations and reminders if you're feeling creative.
6 OUT OF 20: UPDATE YOUR FLOORS
Is there a quick and easy way to improve your home? You may achieve a trendy yet timeless look in your home by replacing carpet with hardwood flooring. Hardwood flooring are also less expensive to maintain and clean than carpet. When it comes to your finances, with this DIY project, you can save money by installing wood flooring yourself!
It's a simple and inexpensive DIY home improvement idea to replace your floors with wood-looking laminate flooring! They're simple to put together and may be completed in a matter of hours. Laminate flooring are also stain-resistant, making them easy to maintain!
7 OUT OF 20: OPEN SHELVING
In a compact kitchen, where cabinets might feel cumbersome, open shelving is a simple approach to free up space. Open shelving not only allows you to keep your dishes, spices, and other kitchen goods tidy, but it's also rather inexpensive to install if you're on a tight budget!
8 OUT OF 20: CREATE A MINI MUDROOM
Even in a small space, all you need is a seat, a shelf, and some hooks to make a life-changing, budget-friendly mudroom. Buy pricey organizers that are specifically made for this purpose, or combine less expensive modern goods with repurposed and repurposed objects to create a complete solution. A cubby for each member of the family makes life easy if you have the space. If you are unsure about how this will look, hire a home renovation project manager and they will guide through it.
9 OUT 20: INSTALL A BREAKFAST BAR
If you're looking for more counter space, a breakfast bar could be the perfect addition to your kitchen. You'll have more room to enjoy breakfast, prepare food, entertain visitors, and more with the extra space. In addition, you can use a contrasting bench top or vintage bar stools to make your breakfast bar stand out!
10 OUT OF 20:  OPT FOR A BARN SLIDING DOOR
A sliding barn door is a space-saving home remodeling choice! You can use it as a doorway to a laundry room, a dining room, a master bedroom, or any other room in your home! Plus, it's simple enough for you to do it yourself!
11 OUT OF 20: MODERNIZE YOUR GARAGE
Consider making some easy changes to your garage doors if they're in good shape but you want to give them a fresh, modern look. Do you need some ideas to get you started? Install windows, add decorative hardware like hinges and handles, or paint it a different color and the best thing is that you can do it yourself! Truly a great modern home renovation idea!
12 OUT OF 20: BUILD A DECK
Property improvement projects such as deck construction can increase the value of your home as well as provide you with a nice place to relax outside of it! While wooden decks can provide a high return on investment if you want to sell your property, other materials such as vinyl or composite can be a low-maintenance, low-cost option for adding a deck to your home!
13 OUT OF 20: INSTALL WINDOW BOXES
Installing window boxes is an easy way to add some color and beauty to your home's exterior! To give your property a vintage aspect, plant flowers and foliage such as petunias, geraniums, ivy, and others.
14 OUT OF 20: ADD A HEADBOARD
Adding a headboard, whether tiny and regal or large and dramatic, is a surefire way to improve your bedroom. They might be fairly expensive to buy new, but with DIY headboards, you can get a lot more for your money and style.
15 OUT OF 20: ADD A FAUX ISLAND
For an island-less kitchen, stand-alone tables or cabinets can be a cost-effective option. Simply add movable casters to make it easy to move the component around. Start with a modest table if you're on a tight budget. The more accessories you add (for example, a cabinet with drawers), the more expensive it will be. Unless, of course, you already have a piece of furniture that you'd like to convert into an island.
16 OUT OF 20: REFURBISH YOUR SHOWER
Renovate the shower to complete your bathroom renovation. Adding storage or seats, replacing your shower head with a water-saving fixture, and installing new tile are just a few ideas to get you started. This is a great project to tackle if your shower is a little out of date!
17 OUT OF 20: INSTALL A BACKSPLASH
Don't overlook the backsplash if you're looking for kitchen remodeling ideas! Your options are infinite in terms of styles and colors, and it's a terrific way to express your particular flair in your house. A backsplash not only protects the walls behind it, but it also makes cleaning much easier! Another great modern home renovation idea for someone who loves to spend more time in the kitchen.
18 OUT OF 20: INSTALL INTERNAL GLASS DOORS
Glass internal doors are a brilliant way to allow light to flow between spaces. This is often a crucial design element in modern home renovation projects — particularly in terraced houses and semi-detached homes, where the central rooms can often lack windows and feel dark. Industrial style metal internal doors are incredibly popular at the moment, adding a stylish edge as well as fulfilling a practical role.
19 OUT OF 20: CREATE A STUDY NOOK
If you have a spare and unused space in your home, consider adding a clever study nook that takes up minimal space. The pandemic has proven that a simple addition of this nook will greatly benefit anyone when working or having online classes.
20 OUT OF 20: ADD A BUTLERS PANTRY
A butler's pantry, if you have the capacity, can make a huge impact in your house by offering enough storage while also putting away all your cooking and cleaning when visitors come over.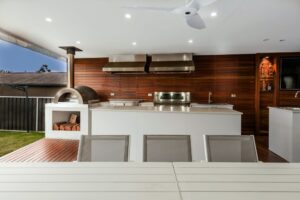 WHY CHOOSE QUANTUM BUILT?
We are always updated with the latest home renovation ideas Sydney. We make sure that before, during and after the project we keep a close communication to make sure that the project is on time and successful. If you would like to know more about our services, explore our official website or contact us so we can assist you better.