Building a home is said to be one of the most expensive investment a person will ever venture in his/her life. Building a home is a special event because this will mark a new beginning for you and your family. In order for that dream to come true, you need someone who can make it come true and this is where Architect builders come in.
Yes, you might say that they are expensive to hire but when we are talking about planning, which is very crucial for any projects as this will determine the flow of the project, you need someone who have spent their lives on architectural builds. They will help you achieve that dream house you have been dreaming of with their professional advice. But selecting the right architect builders is not easy. Here are some tips on how to choose one.
THINGS TO REMEMBER AND CONSIDER WHEN SELECTING ARCHITECT BUILDERS
Here are some of the important things you should consider and remember when hiring architect builders:
1. TAKE TIME TO LOOK AT THE PORTFOLIO OF PREVIOUS WORK
Take the time to look at the previous architectural home design and projects of the architect builders that you are considering hiring. This will help you understand if their style is best for you and your needs and wants. You will find out the types of buildings they made align with yours or not. The portfolio will help you understand your architect builders and what are their strengths and will this play out with you.
2. UNDERSTAND THE EXPERTS
It is imperative that you understand the flexibility required in projects when you consider hiring architect builders as hiring an outside professional in any capacity takes a certain amount of open mindedness. Architects are trained professionals who have spent years studying building codes, interior and exterior design, structural integrity and the like. They are called experts for a reason so be willing to listen and take their expert advice. Having a clear understanding of what you want for final results will only help but being open to professional suggestions will create a smooth transaction to a successful project completion.
3. TAKE TIMELINE INTO CONSIDERATION
An architects' work won't begin immediately, they have to have the pieces in place first before they begin. A timeline will have to be established initially and you may not like the length of that time frame. Building rights and other permits should also be consolidated first before the project can be started so better make sure you have your own expected timeline as well and keep track of it well. Building a home requires a lot of well-planned time constraints. If you are planning to hire professional, do your research first and allow yourself and your contractor enough time to do the job correctly.
4. PLAN A DETAILED BUDGET
Let us face it, hiring professional help does cost and hiring an architect is no exception. Be sure to have your budgetary requirements set from the start to avoid delays or confusion along the way. Discuss these with the architect and ask if he/she can work within those constraints. It is also important to be very clear about where you draw limits and how the project will be paid out. Always remember to keep realistic expectations about the time the project will take as this can affect the budget.
5. CLEAR COMMUNICATION
Be sure you are able to establish a clear line of communication with your architect before you sign any contract. Clear communication is the ultimate key to a successful project. Understanding acceptable times to be in contract and creating a regular schedule for updates is essential to keeping a project on track and your working relationship successful. It reduces the stress between you and your architect builders.
6. ASK AROUND
It is more likely that you will be working closely with the architect for an extended amount of time if an architect is truly invested in your project. This means it is important that you feel comfortable as professional team. You need to feel comfortable with this person and eel your needs/wants will be safe in their hands. Ask around from friends or family members for recommendations or someone who had hired an architect recently. Understanding how the architect builders had worked for someone in the past can give you realistic expectations for your own project and working relationships.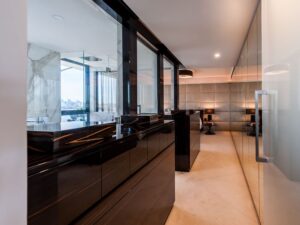 WHAT QUALITIES SHOULD THEY POSSESS?
1. FLEXIBLE
One of the best things about building a custom home is that you and your plan are the backbone of what the project to look like in the end. When looking for inner west architects, ask them how flexible they can be when working with your ideas. It is very important to hire a company with builders that not only has experience working closely with clients but also those that are willing to incorporate your ideas into their plans and get the best results possible.
2. TRUSTED
One way of knowing if a company can be trusted is through online reviews and testimonials. Make sure that that you work with a company that's has had a long and positive track record to ensure the success of your project. The relationship between client and homebuilder must be a close one. A home renovation or any home projects are always a very personal project, and the builder you choose should show genuine commitment and desire to be your trusted advocate through the entire journey.
3. COMMITED WITH EXCELLENT CUSTOMER SERVICE
You will be working with the builder you choose for a long time. To make sure that the process runs smoothly from beginning to end, it is important to find a builder that is dedicated to ensuring customer satisfaction. One way of finding out how they treat their customers is by how prompt and professional they are during your initial search and how they address questions and problems during preliminary stages of your search.
4. EXCELLENT COMMUNICATOR
It is very important that good communication is established between you and your builder to ensure that your vision is well translated into the finished structure. Communication comes in different form so it is important to choose what mode of communication works for both of you, may it be phone calls, emails, or weekly meetings just to give you time to get caught up with each other as the project progresses. By this you ensure that both of you are on the same page throughout the duration of the project.
The world of architecture is all about innovation and change. Architectural builds are always seen to changed drastically especially with the technological advancements today. Everyday, there are new, improved and more sophisticated processes and designs being made, and this will eventually shape architectural builds of the future.
But what will architectural builds be like in 10 years and will this affect the value of my home now? How can we keep up? Are architectural home builders in Sydney keeping up with the architectural design industry's demand?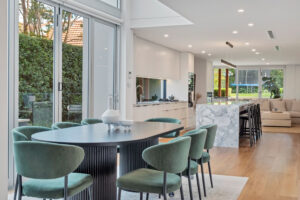 ARCHITECTURAL BUILDS THAT MAY CHANGE THE FUTURE
IMMERSIVE TECHNOLOGY CHANGING ARCHITECTURAL DESIGN PLANNING FOREVER
Architects can now get a sense of a design before it is built. Virtual reality technology has already had an impact on the architectural, engineering, and construction industries. Virtual reality is a huge step forward for projects in the conceptual stage. Architects can now investigate how a design is assembled as well as how engineering is used.
3D printing is another step in the immersive path. New algorithms can help value design a structure while also assisting in the resolution of structural resilience and material use issues. Future architects will be able to develop fantastic structures and architectural builds and understand the true boundaries of design thanks to the use of large-scale 3D printers.
Together, virtual reality and 3D printing will push the boundaries of architecture and construction to new heights.
THE IDEA OF SMART CITIES
The term "smart city" refers to a style of urban development that is environmentally friendly. These smart cities are designed to meet the demands of institutions, businesses, and residents by focusing more on renewable energy, transportation solutions, smart home energy management systems, more extensive access to health, and public service analysis.
Smart city development will enable architectural design construction home builders to make better use of resources, reduce energy usage, and design cities that are more efficient. Big data is critical for understanding how people move around cities, how energy is used, how different components of infrastructure interact, and much more.
Inner west residential architects may create designs that will last a long time by focusing on the demands of the growing community.
DIVERSE AND INCLUSIVE UNIVERSAL DESIGN
Most architects' minds are focused on designing for a varied population. Many others, however, question if it is really possible to design architecture for everyone. Inclusive architecture caters to a wide range of people, including the disabled, the old, the young, and everyone in between.
It is critical for architects inner west Sydney to comprehend the challenges that a wide range of individuals face. Going through a more holistic approach to design will help in the providing more solutions benefiting everyone. When you push the boundaries of what you think is normal, the industry will soon expand the capabilities of well-designed architecture.
SUSTAINABLE LIVING
Climate change and finite natural resources are two main problems that humanity is currently facing. Architects must address these issues and offer better solutions and alternatives. One method is to use environmentally friendly architecture and architectural builds. We can only hope to protect our future ecosystems and climate by focusing on economics across numerous aspects of the architecture business.
The reduction of waste and recycling space is one of the key principles underlying this trend. This involves both physical space and reducing energy loss. This trend can be incorporated into your design ideas by considering three primary factors: materials, energy efficiency, and location. You can make sustainability a part of mainstream design if you look at five primary areas and take a more holistic approach.
VERTICAL BUILDINGS DUE TO LAND SPACE AVAILABILITY
As the population grows, space becomes increasingly scarce. Vertical cities are being considered by some imaginative architects and home builders inner west Sydney as a possible solution to the shrinking habitable space problem. Architects must become more space smart if they want to meet these growing challenges. This is true not only in terms of commercial and residential space allocation, but also in terms of infrastructure and public service design.
Working together, the architecture sector may learn how to better accommodate future generations. Vertical cities and vertical farming are two possibilities that could hold the key to resolving our geographical problems.
Vertical farming is becoming increasingly popular among scientists as a response to the harmful environmental effects of regular agriculture. Vertical cities are the next step in the evolution of high-rise urban living. Apartments and businesses, as well as entire communities, will thrive in a multi-tiered structure.
But what factors were included to come up with these future architectural design ideas?
When discussing future cities, one of the most critical issues to consider is climate change. Buildings and construction account for 38% of all CO2 emissions from energy use. The most simple and powerful point to ponder when it comes to climate change is that the most sustainable structure is the one that is never built.
Refurbishment over demolition is one of the most important trends to consider because it not only saves money and time, but it also reduces our carbon footprint by obviating the need for construction and demolition.
DISRUPTIVE TECHNOLOGY
The Fourth Industrial Revolution is fast emerging as the digitization of human interactions accelerates and the time it takes for individuals to adopt new technology shortens.
The digitization of the construction industry is one of the most promising areas for investors today, attracting the attention of thought leaders, innovators, and professionals from around the world: urban planning, architecture, and design are now some of the most promising areas that can impact humanity's future.
URBAN DENSITY
The increasing human population is another factor to look into as resources are scarce right now. As mountains and forests are being cleared to make space for human need for shelter. Without the primary source of resources, building and construction would crash.
WHY CHOOSE QUANTUM BUILT?
If you go into the internet and type 'architects and builders near me' it is a guarantee that Quantum Built would be on the top lists of recommended companies. With years of experience and in business, we are capable of giving you the best architectural and construction services.
If you would like to know more about us and the services we offer, explore our official website or contact us so we can directly answer all your questions.
QUANTUM BUILT – PLANNING YOUR FUTURE
Quantum built has architects inner wet Sydney and are one of the best home design architects Sydney. With years of experience, we can cover every client needs and wants and maintain that professional and classic or luxury type they want. If you have any questions, feel free to explore our official website or contact us so we can answer your questions directly.