Owning a home is arguably one of the most rewarding perks of being an adult. However, it comes with a set of unique challenges and home renovation specialists Sydney gets you covered. Homes tend to require upgrades and repairs with age. Also, changes in your lifestyle will necessitate home renovations. While there is no DIY approach when it comes to routine maintenance or necessary repairs of the house, it is best to hire home renovation specialists Sydney when it is time to undertake home renovation.
Advantages of Hiring Home Renovation Specialists Sydney for Remodeling Services
Low cost for Home Renovation
Although it sounds like a fun idea to tackle home renovation projects yourself, by hiring professional apartment renovations Sydney, the renovation work will be completed in very less time. It will also help you save money. The specialists will have industry contacts and receive vendor discounts. Besides, they will get products and equipment for less or poses their equipment, making some savings on to you.
Better Workmanship
Like many other homeowners out there, if you started a home renovation project and discovered quickly that you rather have no time or the required skills to complete the job to perfection. When you work with professionals, you will benefit from their years of experience and expertise. By hiring the right workers, they will make sure you are at peace with your work being appropriately finished on time and within your budget. They will also make sure of higher quality than if you attempt the project yourself.
Insured, Licensed, and Bonded
If you plan to handle home renovation projects on your home, there is one big concern you have to deal with. It is ensuring you have special permits needed to complete the work. Besides, you should also worry about having liability coverage if anyone at the work phases faces an injury or accident on. A professional remodeler will be bonded, licensed, and insured to protect the workers and your home from injuries or damage.
Reliable Home Support
If something goes wrong after a home renovation project is completed, whom will you be able to call in case of an emergency? When you work with professional at Sydney home renovations, you will have peace of mind that someone is there to back up and support you in terms of a problem. They can deal with any emergency repairs, issues, upgrade, and also future renovations.
Get the job done quickly
If you decide to try your hand in taking care of renovation yourself, you will be spending a lot of time in understanding and researching how to carry out the project. From purchasing the right tools to installing them in the right place, for everything, you should do research. This means that your project will take a lot of time to be completed.
When you hire home renovation specialists Sydney for home renovation, they will know to deal with the process at every step, complete jobs, and make the whole process more efficient.
6 Qualities Great Home Renovation Specialists Sydney Should Have
Planning for a home renovation but doesn't know any home renovation companies Sydney?
The cliché, 'if you want anything done correctly, do it yourself' does not necessarily ring true in every nook and cranny. While a large number of 'do-it-yourselfers' are ready to put up with the stress, aggravation, long hours, and hard labor required to complete a home improvement job, this is not always the most feasible option at hand. While DIY-friendly platforms such as YouTube and Pinterest, as well as easy-to-use and cost-effective tools have made these projects more accessible to the general public, some jobs should and should only be completed by professionals.
Either you opt your home to be remodeled to increase its resale value, make modification on you living environment, or simply give it a fresh new look, home renovation companies Sydney can make your vision a reality. An investment in home remodeling contractors to completely convert your house is a significant one, and there are numerous home renovation companies Sydney to pick from in the Australian market.
Now that we've figured out the imperativeness of hiring home renovation specialists, and home renovation project manager, it leaves us with the thought of how then do we ensure that we have landed on the right one? To ease your burden, here's a checklist of 6 qualities great home renovation companies Sydney should have.
1. Licensed and Qualified in Accordance with the Law
Home improvement projects are governed by the government. Home renovation companies Sydney are required to obtain the right licenses and certificates in order to work on residential renovation and repair projects. These restrictions seek to protect property owners by ensuring that only people with the required knowledge and skill are permitted to accomplish the tasks at hand.
Indicators of qualification include whether or not a contractor possesses the necessary licenses and certificates. So, if you're thinking of hiring a home improvement contractor, make sure to ask for their license number and check it against the licensing lookup page for your state.
2. Credible Reputation
The reputation of a firm is everything, no matter what industry they are in or what they do. What is published on a firm's website and in marketing is meaningless if what their prior clients have to say about the company is completely opposite of what is written on their website and in advertisements. When it comes to complete home renovations Sydney, it is even more imperative to hire a contractor who has a good reputation and comes highly recommended by his or her prior customers.
Fortunately, it is becoming increasingly simple to find out what other people are saying about a given organization these days. Reputable home renovation companies Sydney should have a large number of favorable ratings from former customers, which you may read on review aggregator sites.  Your acquaintances, neighbors, and coworkers may have used local home improvement companies in the past, which makes them excellent resources in your search for a contractor.
Keep in mind that online reviews and personal recommendations should not be the only factors considered while making a purchase. A number of reviews may have been paid for and altered by businesses. It is possible that some prior clients are not being completely genuine about their experiences. Always exercise caution when reading anything on the internet.
3. Quality-Oriented
Contractors who are dedicated to providing the greatest degree of quality are the most qualified candidates. It is important to them to take pleasure in their job, which is why they only utilize and propose materials manufactured by the most reputable and well-established companies on the market. They also attempt to keep up with the most recent industry trends, whether they be for your indoor or outdoor settings, in order to give you with the most appropriate solution for your individual requirements.
4. Work Flexible
Project plans are not always carried out in the manner in which they are intended. It is possible that unanticipated problems will arise, or that essential adjustments to the budget or materials will be required. Installing new windows, for example, may reveal damage that had previously gone undetected. If this is the case, it may necessitate the use of longer working hours and the use of overtime. Find a contractor within the options of home renovation companies Sydney who is willing to do this, while also attempting to complete the project as swiftly as possible.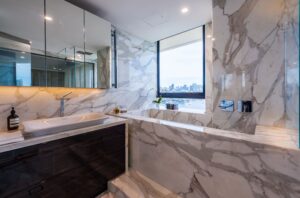 5. Technical Expertise
Knowing how to find the greatest solution is just as crucial as knowing how to look for it in the first place. It is a significant red flag if a contractor comes to your home and does not take measurements in order to comprehend your situation, for example. It is vital to ensure that your home renovation project is a success by gathering information that will be used to select the best course of action.
6. Robust Communication Skills
You should feel comfortable conversing with your builder and should believe that the channels of communication are open not only for good feedback, but also for critical criticism of his or her workmanship. Don't let anything get out of hand. If you have an issue, express it as soon as possible. In the long term, it will save both time and money for everyone involved.
In addition, decide on a way of communication with your builder. This function selects the mode that is most convenient for both of you. If he's out in the field all day, texting may be the most effective mode of contact. However, if he only considers sending a text in an emergency situation, e-mail may be a more appropriate choice. The technique you choose will ultimately determine the types of responses you receive and the timeliness with which they are delivered.
Looking for a home renovation specialists Sydney that ticks off this checklist? Quantum Built has it for you! As a highly regarded, experienced, and licensed Sydney homes renovations company, you can rely on us to not only provide a premium level of workmanship but also a level of customer service that sets the benchmark other companies aspire to.